Bidonex?s mission is to deliver products in line with our clients? expectations.
The satisfaction of our clients is our priority.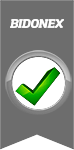 THE GRANGE CLUB EDINBURGH, UK
We purchased 100 printed water bottles from Bidonex. The quality of the print on the bottles was excellent and the advise they gave us was excellent with them sending several images of what the bottles would look like with different colours and fonts used on the design of the Logo. Their customer service was wonderful and they were happy to ask any questions I had on the product or about the international payment used. The bottles arrived in a couple of days. I would recommend them to any sports clubs or teams.
Justin Lyons
Club Manager
The Grange club Edinburgh
UK
CORSHAM PRINT WILTSHIRE, UK
We ordered 30 crates and 240 bottles from Bidonex. We received a very prompt response, quotation and artwork. After approval, we received a pro-forma invoice and, after our payment, we received the order within a couple of weeks. I would recommend Bidonex to other organisations.
Jim Thorn
Hon General Secretary
Corsham Print Wiltshire Senior League
TRINITY SPORTS MANAGEMENT, UK
Brilliant quality branded bottles. Thank you.
Jessica Burgess
Head of Events, Trinity Sports Management
UK
I decided to get the bottles for my personal training business to give to my clients as a thank you and advertisement for my business.
I was really pleased with the quality of the bottles, how fast they were delivered to the UK(within 2 weeks from design) and the professionalism and ease of the staff. Would purchase again.
OLYMPIAN GYMNASTICS CLUB, IRELAND
Great customer service provided. Bidonex water bottles were great quality, very quick turnaround when we ordered 500 bottles.
I would recommend them to anyone.
Ashwin Kesso
Operations Manager
Olympian Gymnastics Club, Dublin
The customer service team of Bidonex was always easy to reach and all questions were answered quickly.
The samples arrived very fast.
Maximilian Gaedcke
JoyBrau GmbH
We are very satisfied with the quality and speed of service. We will be happy to order again in the future.
We highly recommend cooperation with BIDONEX. For our needs, the company has designed a product – the bottle of the highest quality. Both, the design and production stage of the order, went quickly and smooth. Compared with competition, Bidonex distinguishes the price as well excellent customer care.
We hope that it will always be the same and to everyone? We recommend it.Rafał Petelczyc
Senior Sales Planning Specialist
R-GOL
Poland
SPORTS AGENCY SCHWABENSOCCER, GERMANY
Very good cooperation. Fast processing of our requests. Very good quality and fast and punctual delivery. Highly recommended.
Otto Ziermeier
Sports agency SchwabenSoccer, Augsburg
Thanks for the great bottles, my rating is only positive!
SPORTS AGENCY SCHWABENSOCCER, GERMANY
Very good cooperation. Fast processing of our requests. Very good quality and fast and punctual delivery. Highly recommended.
Otto Ziermeier
Sports agency SchwabenSoccer, Augsburg
Thanks for the great bottles, my rating is only positive!
GORILLA WEAR, THE NETHERLANDS
Bidonex has great service!  The quality of the Bidonex was good. It has a bright look and feels really good in your hands.
The ordering process was fast and good. I could really recommend them to others!
Lelyan Alhano
Head of Purchasing,
Gorilla Wear
The Netherlands
We have received the order and we are really satisfied.
There will be other orders in the future.
Thank you!
Absolutely everything was perfect, especially your own customer care.
Thanks for all!
Bidonex is a good choice. They provide an excellent customer service and a wide range of great bottles.
Lena Wilhelm
Assistentin Customer Marketing
Emmi Frisch-Service AG, Switzerland
I cooperate with Bidonex as a distributor in Estonia. The service they offer is good and quick. I tested the bottles myself and confirm the quality of design and print and also durability. I shared samples with my interested customers and received good feedback. This is well selling product.
Urmas Paejärv
Organizer of Triathlon
Estonia
So far all the orders have been timely delivered.
I am quite satissfied about the quality of the bottles, especially because they are made from the safe material, which is important for most of the clients. I am very happy about the quality of the cooperation. We get a full support, quick and detailed answers. Sometaimes I have the feeling that we are partners, who are working in the same building, not in  different countries.
All graphical requests has been completed very quickly and flexible. Sometaimes the client wants to adjust the  design many times, but every time we got from you
Very quick answers, graphical fulfillment and delivery of the order.
We got a full marketing support. All inquiries have been completed and we got even more extra marketing material.
Laurynas Urbšys
Owner TriSportas
Lithuania
We ordered from Bidonex more than 2000 pcs of personalized water bottles with two different prints and printed ean barcode. Only few arrived damaged, but in the box we received extra bottles, so there was no need to wait for the replacement. The service we received was very good and the whole ordering process went very smooth.
Mltja Mihelic
Head of Purchasing
THE Nutrition
Slovenia
Bidonex is one of the best and most professional company we work with. Whole process from first idea to realisation runs very quick . Comunication is prompt, which is very important. Especialy I love graphic design team, who make marvelous artwork from just a basic logo and text in very short time.
In my professional life I saw many diferent bidons. When I got first  BIDONEX specimens in my hands, my first impression was: finally, a bidon you keep for long time. It has classy looks, firm , nice materials, and are great to handle.
Our customers love them.
Matej Polanc
Promos Marketing
Slovenia
BIDONEX is a reliable partner, only with whom we want to cooperate. Together with BIDONEX, we have completed orders for many clubs and sports organizations and I have been proud to hear that our customers have been satisfied with the orders! Perfectly prepared visualizations, professional approach to the subject, express delivery time and on top very good and adequate price to the quality of products, are the main attributes of BIDONEX.
With full responsibility, I recommend BIDONEX.
WE ARE TEAM
Tomasz Mojsa
Sales Director
POLAND
Cooperation with Bidonex is worth recommending. Perfect customer service, very short waiting time for the product and finally excellent product quality that will serve our young football players for a long time. We definitely recommend it to everyone, and we will definitely come back for more orders.
Filip Galus
Juventus Academy Toruń
Poland
The BIDONEX company manufactured water bottles with logo of one of our brands – the no10 football store. From the first contact I was extremely impressed with the professionalism and pro-client approach. We have received several projects, many free samples, an extremely competitive price and an express lead time in the package. Can you expect something more than that? Yes! A high-quality product and this is what we have received. Thank you very much for your delightful cooperation. We definitely recommend it to everyone, and we will definitely come back for the next order.
Marba-sport
Sp. z o. o. Sp. k.
Poland
We started cooperation with Bidonex in August 2017 by initially introducing one product to our sales line. In April 2018, we already have 3 Bidonex products in our offer. The main attributes of this manufacturer is fast delivery time and advantageous prices. We are very satisfied with our cooperate with Bidonex.
Łukasz Kodym
LOGISTICS Specialist
Lech Poznan
Poland
Bidonex company has prepared for us personalized water bottles. Compared to competition, they are distinguished by the quality of design and the lead time. In one day we received a free visualization and an accurate price offer. The production was also completed in express time. We will definitely cooperate again in the future.
Dawid Selwet
Head of the business marketing department of KS Polonia
Środa Wielkopolska, Poland
We started working with Bidonex, when the drink produced by DrinkFood, NR ONE, was the official Isotonic Drink of the European Lotto Eurovolley 2017 championship. At that time, we chose the model BID_013 with a capacity of 1000ml and it turned out to be the perfect choice. The quality of the product, its design as well as timely and fast delivery has convinced us that we are dealing with a group of professionals who love what they do. Working with such people is a pleasure.
Ewelina Laskowska
Brand Manager
DrinkFood Sp. z o.o.
Poland
Wir empfehlen die Zusammenarbeit mit BIDONEX. Für unsere Bedürfnisse hat das Unternehmen ein Produkt entwickelt – die Flasche von höchster Qualität. Sowohl die Konstruktion als auch die Produktion des Auftrags verliefen schnell und reibungslos. Im Vergleich zum Wettbewerb zeichnet sich Bidonex durch eine hervorragende Kundenbetreuung aus.
Wir hoffen, dass es immer und für alle gleich sein wird. Wir empfehlen es.Rafał Petelczyc
Senior Verkaufsplanungsspezialist
Rafał Petelczyc
Senior Sales Planning Specialist
R-GOL
Polen